"Laughter, Light Wands, Encouragement…Oh My"
While dawdling along various spiritual paths in search of my Inner Muffin I began doodling the wacky cast of characters that live in my head. I began offering my designs at the bookshop I owned at the time and lo and behold, they were a huge hit! The characters jumped out of my head and on to the paper and took on a life of their own and I became know as the Great Cosmic Happy Ass.
From nutty gurus, irreverent monks and blessed bovines, I've shared my world as greeting cards, magnets and prints since 1996 and I discovered the fastest way to enlightenment is a good laugh and a cosmic happy ass.
For years my approach to spirituality was to use my flair for the divinely absurd to remind you of your spiritual side without taking yourself too seriously. God knows, I don't. But a new inspiration kept nudging me. I recognized that I had to create larger pieces expressing the heartfelt ideas I was feeling about our spiritual journeys.
So using my paintbrush as a light wand with the boldest bold colors I could find, I went off in an expanded direction. The larger pieces took form as StoryBoard Totems and mixed media canvas paintings that you can see on the Gallery page.
Thank you for the opportunity to make your life just a tad easier and a little happier.
I want people to experience their happiness.
My art is all about happiness, joy, and laughter. My process of creation is joyful and I love watching the joy that the art creates in people's life. In this video, I invite you to experience my creative process so you can feel the love behind the art.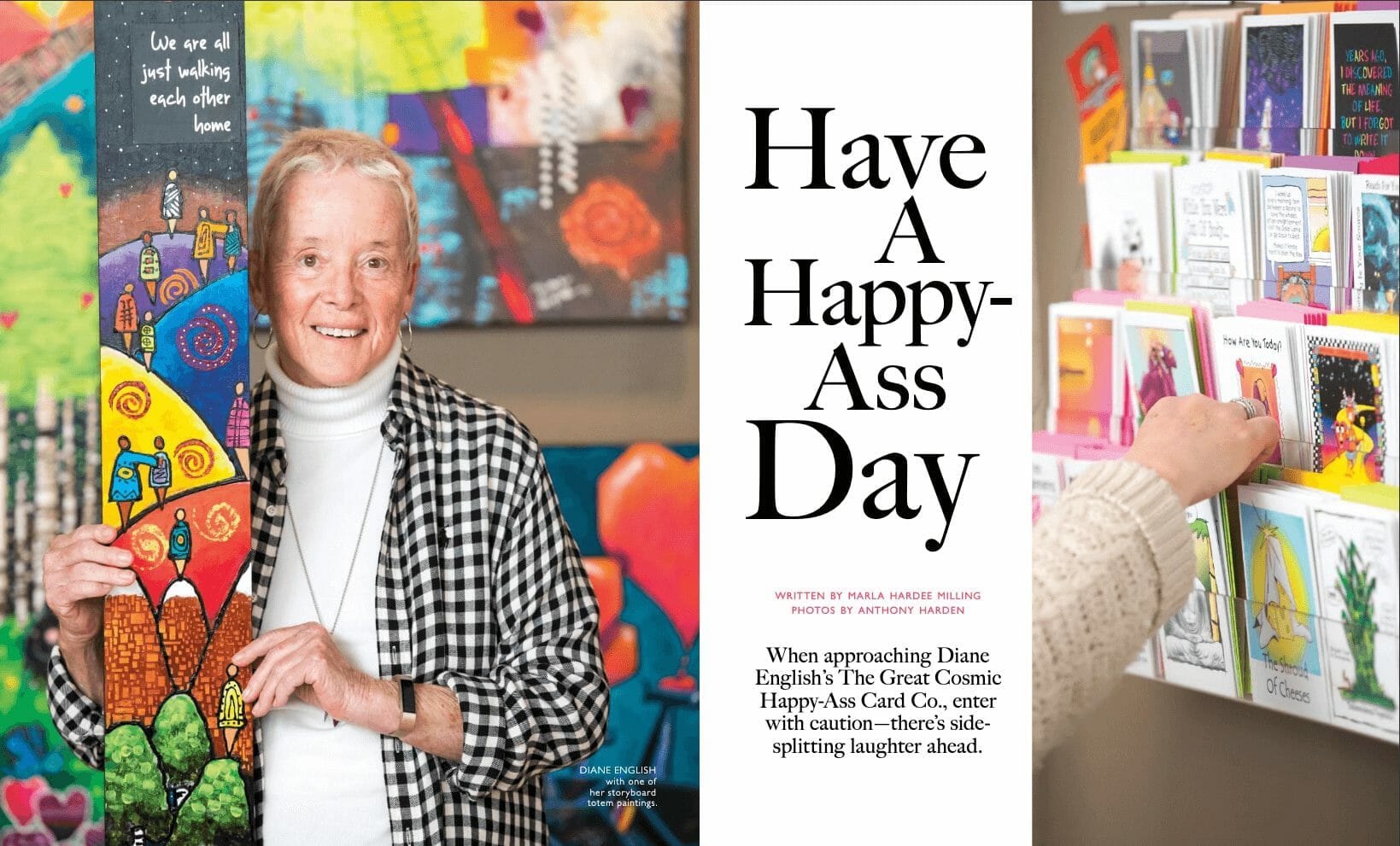 Have a Happy Ass Day
Capital at Play Magazine by Marla Hardee Milling | Photos by Anthony Harden
"I think we need to laugh now more than ever. I think we need to lighten up. If there was more of this around, we would have better conversations and deeper conversations. I think humor makes us look deeper than we would without it. And it makes us love more because we don't take ourselves too seriously." Customer Gloria Prendergast, Sebring, Ohio.
In this insightful article, the author explores Diane's Great Cosmic Happy Ass Card Co., how it all came about and Diane's special blend of humor, philosophy and the meaning of life.
Enter with caution—there's side-splitting laughter ahead.
Ever wondered what it was like inside the infamous Great Cosmic Happy Ass studio? You can now know!! Check out this video for a sample of a day in the life at the Great Cosmic Happy Ass studio.
We Are More Than We Think We Are: Art As Worship on Empower Radio
Interviewer: Vanessa Lowry | https://artasworship.net/radio/
In this interview, you can learn more about the history of The Great Cosmic Happy Ass Card Co. You'll hear the story behind the name, the path to its creation, and so much more about my process of creation. The title of the show says it best: Art is Worship. I treat it that way.